TCL RayNeo is thrilled to announce our exciting collaboration with Lensology, a renowned global provider of prescription lenses designed for AR and VR eyewear. Together, we present an effortlessly integrated and economical solution catering to our TCL NXTWEAR S glasses users who require prescription inserts. Leveraging Lensology's extensive expertise in the realm of prescription lenses and our cutting-edge technology, we ensure a smooth and budget-friendly option that guarantees an immersive and comfortable experience, accompanied by unmatched visual precision.
The Lensology NXTWEAR S insert package includes:
• An original NXTWEAR S magnetic insert
• Premium-grade high-index lenses, tailored to your prescription
• Precision cutting, edging, and meticulous lens fitting
• Expedited processing within 24-48 hours for readily available prescriptions
• Global shipment with tracking
• A straightforward and economical pricing model, suitable for a wide range of prescription strengths.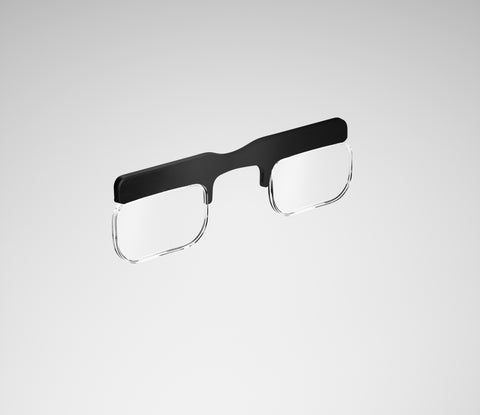 A Glimpse into Lensology Lens Technology
Lensology's unwavering commitment extends to delivering unparalleled lens services to both eyewear professionals and the general public. Their dedication lies in providing top-notch products that align with your distinct requirements. Each lens is crafted from high-index materials, meticulously chosen to mirror each individual's prescription needs. Opting for 1.6 index (thin lenses) for lower prescriptions, they ensure maximum comfort and lucidity. For stronger prescriptions, they offer the ultra-thin 1.74 index option, ensuring minimalistic and lightweight lenses personalized to your unique prescription.
Lens Attributes
• Resilient Anti-Scratch Coating
• Efficient Anti-Glare Properties
Transparent Pricing
Lensology's pricing strategy is designed with transparency in mind. The comprehensive cost encompasses both the NXTWEAR S Magnetic insert and lenses, offering a cost-effective and seamless package. The additional fee pertains to shipping, thoughtfully kept as economical as possible. Their primary objective is to offer budget-friendly, premium prescription inserts without the hassle and concerns of unexpected charges. For comprehensive pricing information tailored to your specific region, kindly refer to: https://lensology.co.uk/tcl-nxtwear-s-lenses/
How To Order
Embarking on your ordering journey is as simple as visiting https://lensology.co.uk/tcl-nxtwear-s-lenses/, where Lensology's user-friendly ordering process awaits. If you have any questions or need further assistance, please don't hesitate to contact Lensology at hello@lensology.co.uk.
Free Worldwide Shipping Flash Deal
Lensology is offering FREE worldwide Shipping for TCL NXTWEAR S prescription lenses until 15th September 2023. If you need vision correction to elevate your immersive viewing with TCL NXTWEAR S, don't hesitate to order on Lensology's website!